Recently, I started something new with a close friend of mine. We call it CVLTWEAR.
We create Rock 'n' Roll inspired shirts for programmers, hackers and geeks. Check this out: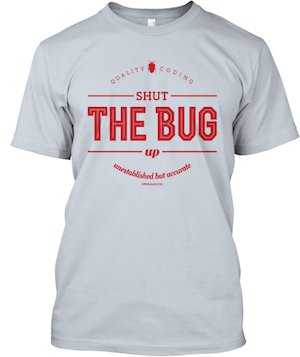 Yes, there are a lot of companies who design geeky shirts. On the other hand, rarely have I come across one that I liked. I never really found it funny to wear a shirt with Pac Man wearing sun glasses. Or a 5kb pixel graphic of Godzilla.
Maybe it's my fault. I work a lot and love my job, but I still don't like these hacker shirts.
When I was young, I looked more like the geek usually portrayed in movies, you know the type: I had thick glasses and hippie jeans. Later on, I had eye surgery and didn't have to wear the glasses anymore. I started wearing Heavy Metal t-shirts. My hair grew long and I was on tour for quite a while.
And now I should wear a Pac Man on my chest???
As you may have guessed, I didn't become a rock star. I became a programmer. At first, this was sad news for me, but today I know this was just right and I love not being in the tour bus the whole day and performing the same show over and over again.
I have a lot of memories from that time. For me, music was always something special. Listening to my old favorite bands today transports me back to those times.
Do you know that feeling?
You see, I am not made to wear a Pac Man shirt. But I also don't want to wear Heavy Metal shirts (at least not every day). I want a shirt that can combine all the facets of my life.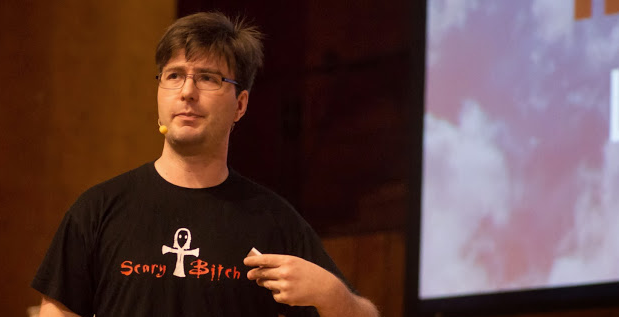 (picture taken from the Java Userforum Stuttgart)
My friend Dusan is like me. On tour, we shared stages. When I went into programming, he went into Art and Design. I think he is very good at what he does.
And one day I thought: heck, why shouldn't we bring some Motörhead back to our lives?
So, we teamed up.
And now our first t-shirt is available at Teespring.
We only create shirts we would wear ourselves.
Why we used Teespring
We could have printed shirts straight away. As musicians we know where to go. Printing shirts isn't that expensive these days. We could even let Amazon handle the fulfillment. Since we both have jobs, money isn't the issue.
But if we did it like that - where is the excitement?
We want to differ from other shirt companies; not only by design, but also in how we treat our product.
We don't have a financial need to get our "Shut the Bug up" shirt out. We're doing it because we love it. Teespring offers our shirt for a limited time only and we need to find at least 75 people to buy it. It's like a game!
It feels a bit like running to a record store in the eighties and hoping to get hold of the newly released vinyl of your favorite band. Ask Dusan, he still collects vinyl and he can tell you a story about that.
There are some drawbacks too. Teespring is operating from the US. This results in high postage prices to EU and to Germany. I have contacted the Teesprings support to provide a better service for our EU customers, but, so far, Teespring has not been able to help me. Maybe things will sort out soon, I hope so.
Pro-Tipp for EU/Asia customers: make up a rock band with your colleagues and save postage!
Please support us
I do not make these calls very often, but if you like what we do, then please support us by liking us on Facebook, or following us on Google+ and Twitter.
We are going to push a new design in the next few weeks, and if you follow us, you'll be the first who can see our upcoming stuff!
We want to reach the guys who love rock music (or at least this special kind of rock humor) so tell your co-workers and friends that share this taste, you'll be in our hearts forever.
Rock on!