Last weekend I was attending the WebCamp Zagreb.
In short, this was just a great experience and I would like to recommend every developer to give it a chance next week as well. You shouldn't be concerned about the travel too much, because the conference is free for all and so you will have some money leftover for your plane ticket.
The conference was packed with great content. The most valuable presentations for me this weekend given were Marcin Warpechowski and Nikos Zinas. Marcin didn't have a single slide, but showed that presentations with "just" live coding is possible. It was fantastic to learn about what is possible with Web Components today. Nikos on the other turn showed us some Web Component pitfalls and how to get over them, with the yet unreleased W3C spec of element queries. The best presentation skills itself showed Ross Tuck who was also the keynote speaker. You can check for yourself if you follow Webcamp Zagreb on Twitter as they may upload videos from the presentations.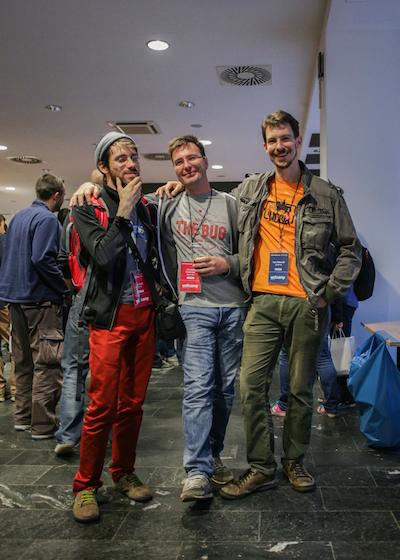 (Image shows Igor Galic on the left, then me, and to the right Ivan Habunek, from the Webcamp organization team. Photographer: Neven Falica.)
I have to say that I missed a couple of presentations which others may have enjoyed. There was a good reason: it is very, very easy to get into a discussion with devs from that region as they all speak excellent English and are really kind and open. In total, there were more than 800 peopple participating, and that means you have a lot of opportunities to speak with them.
This year there were two tracks to let people decide which one to follow. In general, there was always one more technical talk and one more not-so-technical talk, which proved to be very good.
As far as areas for improvement, I can just mention the food. While the food itself was tasting good, it was a hard fight against hundreds of other devs to get food. Lucky for me I had some great companions who showed me a small restaurant serving only one thing: Cevapcici. And that was very good.
It was exciting to participate in a community driven like that. It must have been hard work to make something like happen. But as the community there is vibrant, I am sure we will see a fantastic conference again next year. I will definitely submit another talk there and absolutely hope that Webcamp Zagreb will reach many more people.
Oh, and here are my slides for my own talk called "Go Mobile with Apache Cordova".